Welcome to the Repton Village History Group.
Here you will find a description of the RVHG, including a brief outline of the activities of the group and details of many of the interesting historical facts associated with this ancient community.
Click here for the latest articles and website updates: Latest News
The Repton Village History Group has a number of publications for sale and aims to continue to add to the list. Contact us if you would like more details of how to obtain a copy of any of the publications listed below.
REPTON VILLAGE HISTORY GROUP
PUBLICATIONS LIST – November 2019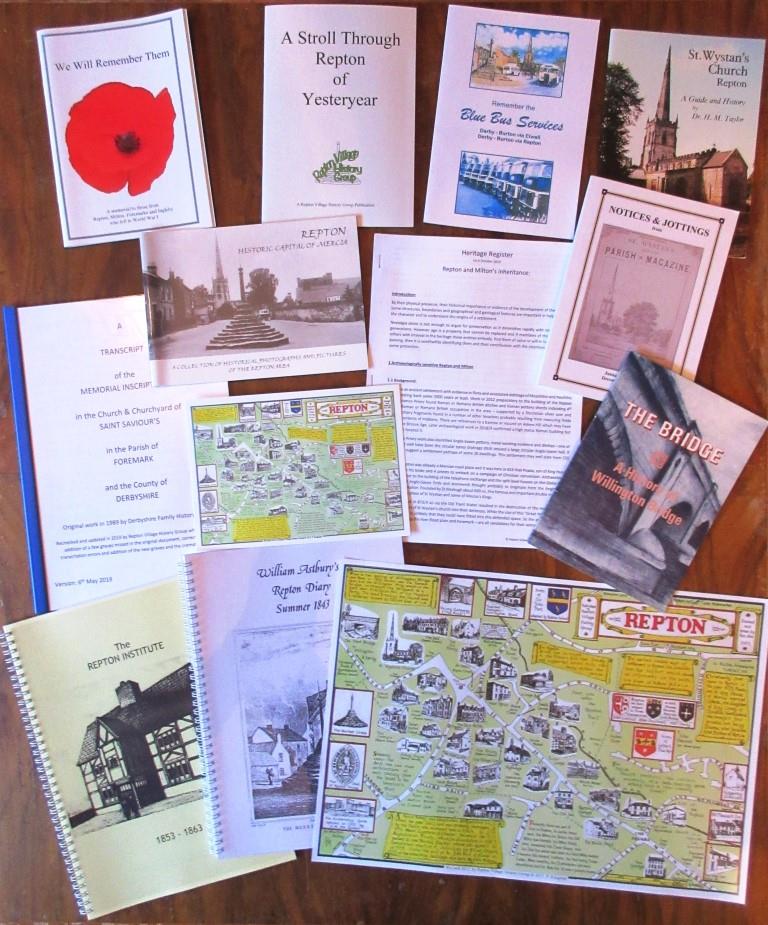 | | |
| --- | --- |
| Publication | |
| Repton Trail – An early publication and still as popular as ever with visitors, it will take you to the notable buildings in the village and give you a brief commentary on each. A companion to the Historical map perhaps. | £1.00 |
| Repton Historic Village Map – A3 – Created by Ken Ash – a gifted member with superb draughtsmanship skills – it provides a very attractive map showing the key buildings of historical interest with brief descriptions and beautiful sketches. Brought up to date in 2017, it will not be changed again. | £1.00 |
| Repton Historic Village Map – A5 Postcard – As above but with postcard format on the back. | £0.50 |
| Repton, Historic Capital of Mercia – A photographic booklet remembering Repton and Milton from the 1850s through to the 1950s. With some 40 pages of greyscale images this was the second such volume. Sadly the first (Repton Remembered) is now out of print and will have to be reconstructed from scratch. | £4.00 |
| William Astbury's Repton Diary – A fascinating insight to life in Repton in 1843 when William came to Repton for 12 summer weeks. A staunch non-conformist bachelor, he was a merchant in London for the Spode pottery company and up here as executor to James Bull of Willington who was dying. His journal provides much valuable evidence for other research. | £4.50 |
| Remember Blue Buses – A memorial really, to the Blue Bus Company that from the 1920s ran a much loved service to Derby and Burton and was based initially in Repton and later in Willington. With photographs of many of the vehicles and staff and recollections of the route, timetables and tickets. After the business had been taken over by Derby Corporation, a devastating fire destroyed the garage and buses. | £3.00 |
| Notices and Jottings from St Wystan's – Repton Parish Magazine A book full of items of interest concerning important events, community activity, local organisations and people from the 1800s through to more modern times. | £0.75 |
| Memorial Inscriptions – Two CDs are available: The memorial inscriptions in St Wystan's Churchyard added between 1990 and 2014 (£1.50) and the memorial inscriptions in the Monsom Lane Cemetery up to 1957 to 2013 (£2.50) | £1.50 & £2.50 |
| St Wystan's Churchyard Trail – A brand new item which will guide you to 20 of the most interesting features and graves with an explanatory note about each. | £1.00 |
| We Will Remember Them ("Poppy Book") – Produced in time for the centennial commemoration of the declaration of WWI, this booklet provides an insight to Repton at war and into the lives of the 49 servicemen with a connection to the villages of Repton, Milton, Foremark and Ingleby who died in service. The proceeds from the initial print run went to the 2014 Poppy Appeal. Many of the servicemen are on local war memorials, but not all. | £4.50 |
| A Stroll Through Repton of Yesteryear – Produced as a result of a meeting with the Friday Luncheon Club, this booklet contains a fold out map showing the remembered small enterprises along Long Street (now High Street and Main Street) with photographs from times in the past. | £4.00 |
| Repton and Milton Heritage Register – Produced to accompany the local Neighbourhood Plan, it registers all listed buildings and those of particular interest, describes the early history and archaeologically and historically sensitive areas of both villages and the importance of the open spaces that delineate the hamlets and villages of Milton, Foremark, Repton, Park End (AKA Wood End) and Mill Hill. | £1.00 |
| St Saviours, Foremark – Monuments and Inscriptions – The original listing, created by the Derbyshire Family History Society, had not been addressed for 40 years and was no longer available. So we obtained a photocopy from DFHS and scanned and OCR'd it and then redid the survey. In doing so we were able to correct miss-transcriptions, add missing ancient graves, add the new ones and new inscriptions on existing graves and the cremation memorials. The location map and the indexes were brought up to date. | £2.00 |
| St Wystan's Church History – A booklet by Dr Harold Taylor explaining the history of the church and its construction determined by 50 years of his study and supported by the archaeological work of Prof Martin Biddle and Birthe Kjølbye-Biddle. | £3.00 |
| The Bridge (History of Willington Bridge) – Produced as part of the celebrations of the centenary of the freeing of the bridge from its tolls. Originally conceived as a free bridge, it was finally opened in 1839 with a toll. The nearby ferry and ford were closed by the Act of Parliament and crossing within a mile was forbidden. The Toll board is in the base of St Wystan's tower. | £2.00 |
| The Repton Institute – By 1853 the great and the good had decided that education really was a good thing and the Repton Institute was founded in Tudor Lodge in High Street. A subscription was charged and furniture, including a clock, was donated and books acquired to build a library. A penny savings bank was started and a newspaper available every day. Sadly it ran out of funds after a decade, but was re-founded on a couple of occasions in different locations, including 39 High Street – just a step away from its original home. | £4.50 |
| Repton United Reformed Church – a brief history -Non-conformity is recorded in Repton from 1672 but this chapel built as an Independent Chapel in 1837, became a Congregational chapel and then in 1972 on uniting with the Presbyterians, became the United Reformed Chapel. | £0.80 |